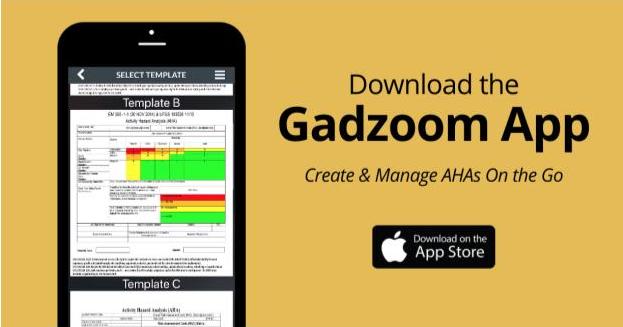 Every construction contract awarded by the federal government requires the creation and use of an Activity Hazard Analysis (AHA) for each and every step or Definable Feature of Work (DFOW) of the project. The creation of each AHA requires a substantial amount of both experience and research to correctly complete. For those in the industry, it's honestly a daunting task for even the most seasoned safety professionals.
After years of development, Gadzoom has released the only mobile app in existence for managing and implementing AHAs into the daily activities of your construction teams. The Gadzoom app is now a standard feature for all Gadzoom subscribers. , Through the app, subscribers' team members will have more access to the safety information that they need, when they need it.
The Platform for Creating Exceptional AHAs
Construction companies that perform government contracts generally have a small library of AHAs that they have developed over the course of many years. Other companies may have a limited safety department or little experience with AHA generation. Employees may struggle for days trying to compile required steps, research safety manuals such as the EM 385-1-1 or the OSHA 1926 and compose each AHA in the appropriate format using Excel or Word.
Gadzoom is not only the most powerful AHA generation tool ever created, it also contains the largest library of complete AHAs and activity steps in the world. With Gadzoom, companies can create all of their required AHAs easily knowing that much, if not all, of the research has already been compiled for them, such as EM 385-1-1 and OSHA references. Multiple AHAs can be created simultaneously, requiring project and field personnel information to be entered only one time. Gadzoom's proprietary platform allows users to store AHAs in their secure vault for instant editing, sharing with other stakeholders, and duplication, if desired.
The World's Only AHA Creation Mobile App
Gadzoom offers the world's only AHA creation app for creating, editing, storage, and electronic signing of AHA documents. Many construction sites do not have field offices or printers, or even connectivity to the internet. No matter whether you have connectivity or not, premium users can access the full library of AHAs and steps Gadzoom offers to create a unique AHA for their project. All folders within the user's secure vault are visible and newly created AHAs can be filed and stored in the same manner, updated once the user regains service. The Gadzoom app allows a company's office team to see what is happening on the project in real time.
Whether users want to go paperless or continue working in a remote location without proper resources, Gadzoom's AHA app allows users to integrate and record electronic signatures onto each and every project AHA. Signatures of key personnel, including Competent Persons, can be added to each AHA, as required. t the conclusion of each AHA Safety Meeting, attendees can sign the documents electronically to signify attendance and understanding of the AHA's required safety protocols. All signatures are automatically placed in the document and synced with the program, ready to be viewed or printed and providing an electronic record ready for instant retrieval and review.
Editing And Duplicating
Once AHAs are created and filed in a subscriber's secure vault, editing and duplication of existing AHAs are two powerful features that save time and enable users to better manage individual projects. If there are personnel changes in the middle of a contract, users simply log into the program, select the appropriate AHA, and make the desired change. Afterwards, simply reprint the AHA the Gadzoom app the easiest and most efficient way of keeping project documents up to date.
The duplication feature allows companies that are performing similar work on another project to quickly duplicate previous AHAs, enter new contract information on time, and then make minor edits if and where necessary. The new AHAs are stored automatically in the user's secure vault under the new project information, allowing ease of distinction when searching. This feature can save time and effort for companies performing similar task orders on JOC or MATOC contracts.
Ready to streamline your AHA processes from anywhere? Choose your subscription then download the Gadzoom app today to get started.
---
About Gadzoom
Gadzoom enables you to generate important documents in minutes, giving you the freedom to run and manage your business without all the headaches that come with administrative responsibilities. Our company was born to make construction document management as streamlined as possible. Create a variety of government compliant safety and administrative documents at the touch of a button. If you're interested in learning more, visit our site today.