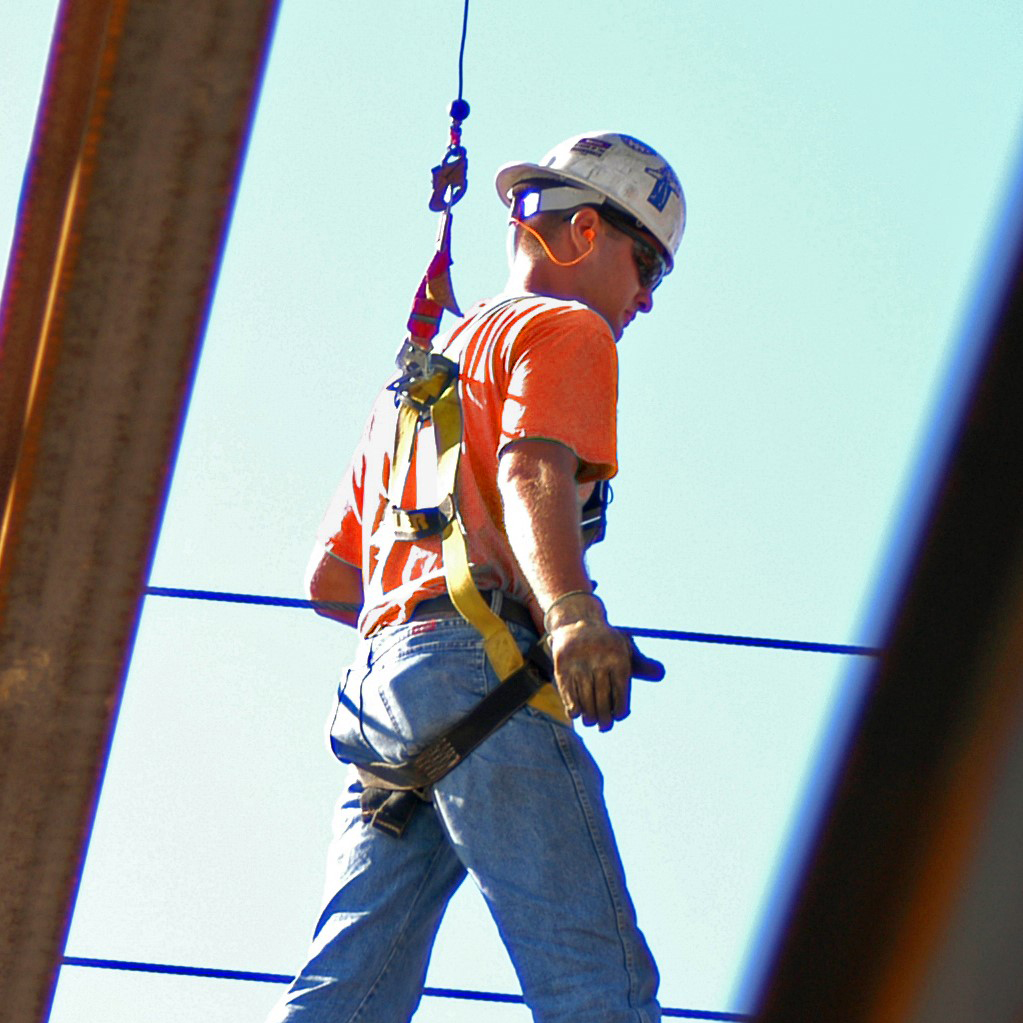 Fatalities caused by falls from elevation continue to be a leading cause of death for construction workers. According to the Bureau of Labor Statistics, 320 of the 1,008 construction fatalities in 2018 were caused by falls from elevation. All of these deaths are preventable.
The Occupational Safety and Health Administration, with support from the National Safety Council and dozens of other groups, asks employers to take a few minutes to discuss fall protection and safety when working from heights by joining the 2020 Fall Safety Stand-Down September 14-18, 2020.
What is a Safety Stand-Down?
Observation of a safety stand-down doesn't have to be elaborate or complicated. A Safety Stand-Down is a voluntary event where employers can speak directly to their employees about safety – in this case, fall hazards and fall prevention. Any workplace can hold a stand-down, and it can be as much an opportunity for you to educate your employees as it can be for your employees to inquire and notify you about the job hazards they encounter. If your workplace is not directly exposed to fall hazards, you can also use this time to have a conversation with employees about the other job hazards they may face and your company's safety policies and goals.
Conducting a Safety Stand-Down and FAQ's
Companies can conduct a Safety Stand-Down by taking a break to have a toolbox talk or another safety activity such as conducting safety equipment inspections, developing fall rescue plans, or discussing job specific hazards. Managers are encouraged to plan a stand-down that works best for their workplace anytime. See Suggestions to Prepare for a Successful "Stand-Down" and Highlights from the Past Stand-Downs. OSHA also hosts an Events page with events that are free and open to the public to help employers and employees find events in your area.
A Fall Safety Stand-Down can be a one-time event, or it can incorporate fall-safety events throughout the week. Managers are encouraged to plan a Stand-Down that works best for their workplace. Consider:
+ Conducting a toolbox talk focused on ladder, scaffold, or roof safety.
+ Conducting a safety inspection along with employees.
+ Developing a rescue plan.
+ Holding a training session.
+ Showing a safety video.
Fall Protection Plan
A fall protection plan is required when workers will be working from elevated positions and is essential to ensure the highest degree of worker safety. The plan should outline safe work practices, including the use of fall protection measures, techniques, and equipment. Every Fall Protection Program must meet the requirements of OSHA 1926 Subpart M, and provide a detailed and comprehensive guide to effectively manage your company's fall protection program.
Fall Rescue: A Big Part of Fall Safety
We can't stress these facts enough; 1) Fall Prevention is only half the issue and 2) most contractors stop at Fall Prevention. This should frighten everyone from field personnel all the way up to CFOs and top executives of every construction company that fails to mandate that before any works from height, an activity-specific Fall Rescue Plan must be developed and implemented.
When fall prevention procedures don't work, or fall arrest does and you have someone that's unconscious and hanging 50' up in the air, every second matters. Depending on the type of harness and how they are oriented, they can die within seven minutes. Now, ask yourself: "What's the plan, do I have the equipment and tools here to get him down, and has our team practiced this?" Don't take it for granted that the fire department has the equipment or is even available to get your injured employee down. That's why it's so essential that your team is prepared to act – and a comprehensive Fall Rescue Plan ensures they know exactly what to do.
---
About Gadzoom
Gadzoom enables you to generate important documents in minutes, giving you the freedom to run and manage your business without all the headaches that come with administrative responsibilities. Our company was born to make construction document management as streamlined as possible. Create a variety of government compliant safety and administrative documents at the touch of a button. If you're interested in learning more, visit our site today.